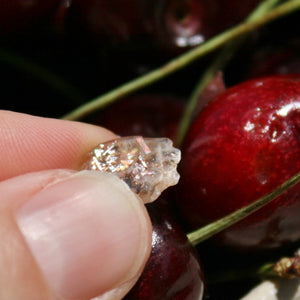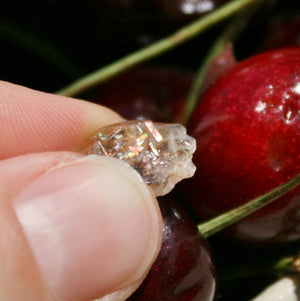 Y2
Rainbow Lattice Sunstone from Australia, 0.70 grams
$71.00
This rare and stunning gem is Rainbow Lattice Sunstone. It was identified at the GIA and declared a new gem variety in 1989.  It is a Feldspar with a rare combination. It is mainly Moonstone made up of roughly 75% Orthoclase and 25% Albite.  The lattice structure you see also known as the inclusions result from crystalographically oriented ex-solution crystals of Hematite.  These inclusions create aventurescense, and Ilmenite which causes the unique lattice effect. When rotate in the sunlight, you will see the aventurescence, adulerescence and the rainbow lattice effect. Location: Rainbow Serpent Mine, Harts Range, Northern Territory, Australia. Dimensions: 0.47"x0.42"x0.17". Weight: 0.70 grams. Sku: Y2.

Sunstone clears and energizes the chakras to provide brightness and freshness within them and an overall feeling of being squeaky clean.  It gently removes etheric cords, retuning them lovingly to the sender.  It dissipates fear and stress, and increases vitality, independence, and originality.  It provides "luck" in games, and treats spinal problems.

Moonstone is a "stone for feeling", allowing one to gain understanding thru intuition and emotions/feelings.  It provides flashes of insight that can be practically applied.  It releases emotional tension, stimulating confidence and composure.  It enhances ones feminine nature, bringing tenderness within the self and happiness to the environment.  It is a talisman of good fortune, and "traveler's stone" bringing protection during travel.  It releases toxins.
About Hematite
Hematite provides grounding and protection, dissolving negativity while transforming it to universal love. It attracts "kind" love, and assists one in perceiving the illusion of limitations. It is a stone of the mind, enhancing mental capacities while providing calmness. It aligns the spine and treats blood and nervous disorders.